Various air conditioners and Split system became an integral part of the modern premises and different offices. Efficiency and service life of such climatic technique depends not only on how it was set and exploited, but also from periodic maintenance of aggregates. The correct and timely service considerably will prolong period of operability of air conditioners.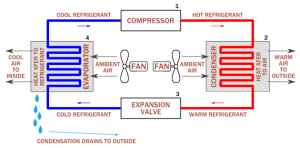 Operation of air conditioners is connected to running through itself huge volumes of air. Air contains dust which remains on the filtering elements of air conditioners. Hit of dust in climatic technique isn't admissible. Dust with condensate creates the favorable atmosphere for growth of a mold and microbes.
Growth of a mold leads to noises in operation of air conditioners and reduces efficiency of cooling. Respectively, electricity consuming increases, load of the compressor increases that can lead to its breakage. The mold in drainage system of the aggregate leads to obstruction, and all condensate will begin to follow in location. In this regard, it isn't recommended to set any electric devices under climatic technique.
The heat sinks of air conditioners and Split systems located out of location become soiled down from poplars, leaves and dust. All this leads to lowering of heat exchange and poor quality of cooling and, respectively, the raised expenditure of an electricity.
High-quality cleaning of climatic technique is possible only in case of casing removal that it gives the chance carefully to clean a tray where condensate, and the heat exchanger accumulates. For destruction of bacteria on the evaporator, the fan and a tray of condensate use of steam generators is effective.
For processing of internal surfaces of air conditioners use special liquid medicines which perfectly remove dirt, an unpleasant smell and hinder with appearance of microorganisms. After processing by composition it isn't required to wash out climatic technique as solution itself will evaporate from the aggregate, by its operation.
In case of service of air conditioners and a Split systems it is necessary to check surely amount of coolant and its pressure in system. In case of need it is necessary to fill climatic technique as it considerably will improve its productivity.
High-quality and periodic service of climatic technique will spare money, will prevent breakages and will prolong period of operation of air conditioners and a Split systems. It is better to trust maintenance to experts with experience.