If you are designing a new energy-efficient home, or need versatile cooling and heating San Diego for a home-improvement project without extending or installing new ducts, ductless mini splits may be the answer. Explore the several types of installation options ductless mini splits offer for your remodel, sun room, outbuilding or other renovations.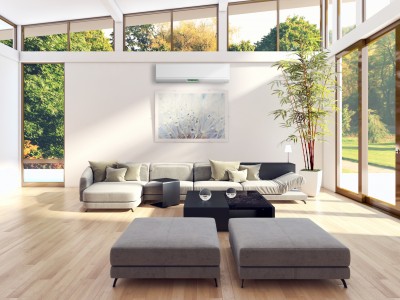 Ductless Systems
Ductless mini splits are A/C or heat pump systems that utilize redesigned components to extend cooling and heating to practically any space inside a home or business. Working by refrigeration principles of extracting, moving and releasing heat energy, ductless systems are ideal for the sunny climate of San Diego.
Each air-handling unit (AHU) is custom-sized and installed specific to the heat gain/loss of its zone, delivering maximum comfort and efficiency for you. Whether you need single-zoned or multi-zoned, there is a ductless installation for your project.
Wall mounting — A wall-mounting option is a straightforward ductless configuration that places a sleek AHU on the upper or lower portion of interior walls. This has the benefit of offering easy maintenance and access to the advanced air-filtration components and the cooling/heating coil (to periodically inspect for mold growth).
Ceiling mount — A ceiling-mounted AHU offers swing louvers for optimal airflow and comfort, depending on cooling or heating cycle.
Ceiling suspended — Ceiling suspended installations conceal the AHU above a suspended ceiling tile with only the air supply outlet visible. This option is popular for offices, as well as home additions and retrofits.
Slim duct — A slim duct installation conceals the AHU inside the floor, wall or ceiling. A short duct run is used to provide the living space an air supply outlet and a return grill for enhanced air circulation through the zone. Slim ducts are nice for large rooms or adjoining rooms, such as a master bedroom and bathroom.
Flex zone — A flex zone is a sophisticated installation that utilizes one AHU for two or more zones. A two-piping refrigerant system may be used to provide simultaneous heating, cooling and/or dry modes by recovering heat energy from one zone and using it for the next.
For more information about versatile ductless mini splits, contact Atlas HVAC San Diego.