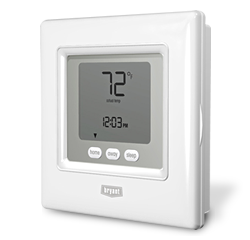 The Legacy Programmable Thermostat keeps your family comfortable. And since it's so simple to program schedules for both the work week and weekend, saving money on your energy bills will be easy, too.
Models: T2-PHP, T2-PAC
Features
Air purifier and ventilator compatible
5/2-day programmable, up to 4 time periods per day
Energy saving Smart Recovery
Dual powered — batteries or system powered
Continuous backlight configurable
10-year parts limited warranty upon timely registration
Keypad lockout
8-hour clock back-up
COMPARE TO OTHER MODELS
If you are interested in getting a new AC \ HVAC installation or repair – just give Atlas Heating & Air Conditioning Inc a call today at (877) 452-8527, so that we can get the process started for you.
Specifications
EFFICIENCY MANAGEMENT
Programmability
5/2 or all days; 2-4 periods/day and Touch-N-Go® feature presets
Smart Recovery
Adjusts to next programmed period settings in the most energy efficient way possible
CONVENIENCES
Auto changeover
Switches between heating and cooling operation as needed
TECHNOLOGY
Staging
1 Heat / 1 Cool (T2-PAC); 3 Heat / 2 Cool (T2-PHP)
Power supply
Uses connection to major system components or optional battery operation
AESTHETICS
Screen
Backlit LCD screen
Cover
Durable, clean, white outer casing
Size
5.2″H x 5.2″W x 1.2″D